Overview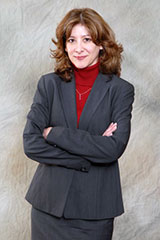 Robin Foret is a Managing Member at Seltzer Chadwick Soefje & Ladik, PLLC. Robin Foret is located in Plano, Texas. Robin is Board Certified in Labor & Employment Law by the Texas Board of Legal Specialization. She is also AV® Peer Review Rated by Martindale-Hubbell. Robin's practice focuses on employment law, litigation, regulatory compliance, human resources training, and conflict resolution and mediation services. In January of 2017, Robin added mediation, arbitration and dispute resolution to her practice. Finally, as a competitor in dog sports and someone involved in dog training, Robin has added dog and animal law to her practice.
Robin graduated cum laude from Temple University School of Law with the intent to utilize trial techniques obtained through Temple's award-winning trial and clinical programs. In addition to litigating complex cases in federal and state courts, Robin provides risk management advice to business clients and assists clients with regulatory issues and human resources management. Robin can be reached through her office number below or by e-mail at: rforet@texaslaborlaw.com.
Employment Practice Areas
Labor and employment law, and employment litigation.
OSHA Compliance.
Wage and hour disputes under the FLSA.
Title VII, ADEA, and discrimination & harassment under federal and state laws.
ADA, FMLA, and other leave of absence issues.
Non-competition, non-solicitation, confidentiality clauses.
Employment and independent contractor agreements, severance agreements.
Unemployment and worker's compensation issues.
Trade secret violations and copyright Infringement.
Employment-related torts, including fraud and breach of fiduciary duty.
Securities litigation involving employees, U-4 and U-5 issues and FINRA arbitrations.
Form I-9 compliance.
Conflict resolution and mediation, and arbitration services.
Dog and Animal Law
Human Resources Advice and Training
Advice on day-to-day human resources matters.
Human resources training for managers, including interviewing, hiring, firing and discipline.
I-9 Form authorization and compliance evaluation and training.
Wages, commissions, bonuses and compensation matters.
Training seminars for managers to build a better workplace environment.
Risk management assessment in the workplace.
Evaluation of human resources employment policies and procedures.
Conflict resolution and mediation of disputes in the workplace.
Robin Foret
Attorney at Law
5851 Legacy Circle, Suite 600
Plano, Texas 75024
(469) 626-5358